Much is being made to night of this photo, and others like it, as the people of New York City gather to watch The USNS
Comfort
glide into New York Harbor.
Credit: New York Post
I write this because I am dismayed at the responses I've seen in the press--from Reuters to Breitbart to the
Post--
that these "bone headed" people are ignoring social distancing rules. I don't know how many ordinary people, who aren't internet pundits, feel.
Then I saw this on the evening news tonight, and I have to say I was moved at the spectacle of help on the way to a city that is literally (and perhaps justifiably) freaking out. Can you imagine, living in such a concentrated hub of humanity, thousands of cases, hospitals filling up. And then a white ship of hope arrives.
Credit: The National Review
Is it any wonder people broke out of their self-imposed isolation for a moment to welcome the help? I fear it is a peculiar disease of mankind that criticism comes easier than kindness. There has been kindness aplenty, and that feels like something healthy. This collection of masked and fearless New Yorkers is seen looking on, an old man grasping the barrier as if he were looking out of prison bars.
I don't know. I just couldn't muster up any criticism of these people, clutched in this malignant grasp.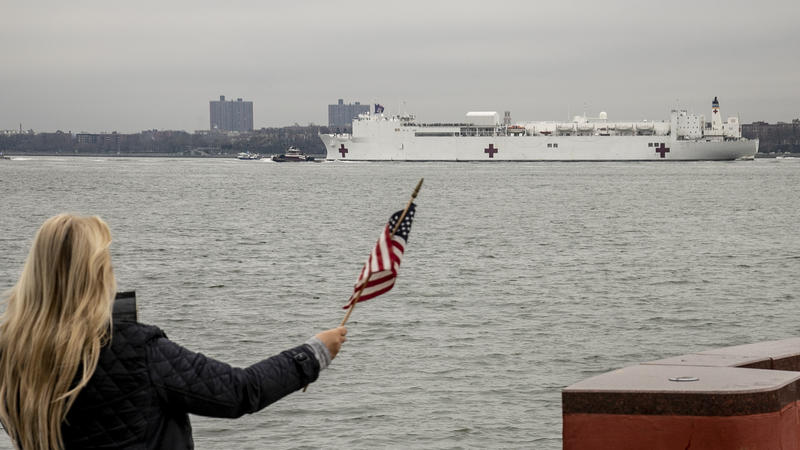 Credit: WBFO
The Pandemic, So Far
Speaking of malignant forces, how's this virus doing? I have reviewed the statistics from various locales and so far there is a consistent 1 to 1.4% mortality rate. There are outliers like Italy and Louisiana, but most experience run to about 10 to 14 people in 1000 will die. This breaks down to maybe 4 people older than 80, 2 or 3 aged 65-80, maybe 1 or 2 from my age group, and the rest lightly scattered in the remaining groups.
Of course, we still don't know how many people get the virus and never get sick. They are carriers in many cases, but how would they know when testing is in such short supply? I think once we can estimate the number of people infected but not sick, plus those plausibly afflicted and perhaps tested, the illness rate and death rates will be lower. It's the contagiousness of this thing that got us discombobulated. Contagiousness is thought of as "R-naught"--R0. I've seen R0 rates of 1.4 to 3.7--that is, one person can infect 1.4 to 3.7 people, with the average settling in at about 2.5. Now this can come down if people, don't...um, congregate. But baseline, its R0 is higher than the flu (which we have a vaccine for, so, just sayin'). People who want to bring this thing under control want the rate to be less than 1 (then the number of cases will go down).
Social distancing is an imperfect tool to limit any epidemic. South Korea used a better tool: aggressive testing, selective quarantine, and contact tracing as a means of limiting the damage. Another shortcoming of social distancing and general area lockdowns is the social isolation it can lead to. Just because it is an imperfect tool, doesn't mean it shouldn't be used, especially if the better approaches, well let's just say it's too late for those.
So one has to wonder: who should we really be pissed at? Our fellow, desperate citizens? Or the people who govern them? It is said that the people rule, but: leaders must lead. Our politics these days doesn't seem to lend itself to that. So the morgues get a little bit fuller, the dying die without family, we grow farther apart in both space and mind, and once again we're humbled by the power of Nature to impose her brand of reconciliation on a careless species. This can be expected to focus our attention.
Maybe the catastrophe is being pinned on the wrong culprits.
Wash your hands and touch your face :)